By Ben Gomes, Google Fellow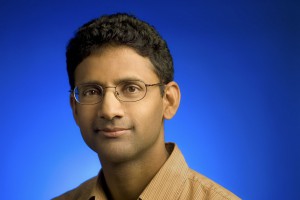 Most of us take for granted nowadays that a simple Google search can help us answer the questions that pop up daily, whether as straightforward as the weather, or when a movie is playing nearby.
But imagine being able to ask Google a query that is far more complicated, subjective even, such as, "What are the best restaurants in Clarke Quay that I haven't tried yet?"
Imagine having a conversation with Google, as you would with a person—or like the ship's computer in Star Trek. We have ambitious goals for what the ideal search engine should be like, and it's a lot smarter than what we see now.
At Google, we're always looking at ways to improve our products and here's what we've been doing to turn your search engine into a Star Trek computer—the perfect assistant in every way.
From 'Strings to Things'
In the past few years we've made some radical transformations to how Google search works. Until recently, whenever you performed a Search, Google matched the keywords you typed to other keywords on the Web.
For example, take the query [eiffel tower]—these two words are known together as "strings" in computer science. We would match these to strings in documents on the web—and indeed, Google became very good at matching those strings. For instance, we understand spelling mistakes and synonyms, and we understand many things about words.
But in many ways, Google didn't understand the Eiffel Tower as a human being would think about it. You and I know it has a location (Paris), a height (324 meters), when it was built (1887), as well as all of these properties associated with the physical object. So when the user types in that query into Google, Google should be able to return information relating to that object. In order to do that, Google needs to understand the world as a human being would, with contextual properties, affinities, and relationships. We call this development moving "from strings to things".
In order to help Google search understand real-world relationships, we built the Knowledge Graph, an index of over 570 million entities, and 18 billion attributes and connections of information available on the Web. Launched last year, the Knowledge Graph forms the backbone of the smarter search engine Google is building. If the web were a giant library, the Knowledge Graph would be like building bridges from one part of the library to another. It enables users to go easily from one entry, to browsing other related entries nearby, to finding another entry in another part of the library.
The Knowledge Graph: Understanding your search better
Thanks to the Knowledge Graph, we now not only have an index of things on the web; we have an index of things in the world. So in the future, we will be able to answer much more complicated questions with conjoined ideas.
For instance, we'll be able to answer questions like "Where can I go to a Lady Gaga concert outdoors where it's warm?" because we can tell you where Lady Gaga is having her concerts and what the weather is like in each of those places. This is extremely exciting for us as it poses a new direction of possibilities.
The Knowledge Graph also helps us understand natural language queries better, meaning questions asked in a natural fashion. Take the query, "How tall is the Eiffel Tower?" Google can now return the right answer to you, because we now know that the Eiffel Tower is a structure that has a specific height, and we know that "how tall" refers to height.
The Knowledge Graph represents a big step in laying down the foundation for moving the search engine away from a tool that spits out ten blue links, to a service that understands exactly what you mean and gives you back exactly what you need.
The perfect search engine
We believe that the perfect search engine should give you the correct information right when you need it, in the way that you need it. In other words, it should be like the computer in Star Trek: it should be able to understand you when you speak, say the answer back to you in a natural, conversational manner, and even tell you things you should know before you have to ask for them.
Google Now marks a leap towards making this dream a reality. With Google Now on your Android phone, you'll see informational cards show up at just the right time, without having to ask—it's all based on your context at the moment. For example, it can tell you today's weather before you start your day, how much traffic to expect before you leave for work, or when the next train will arrive as you're standing on the platform. If you're traveling in a different country, it will give you translations and currency conversions, as well as photo spots nearby.
The Knowledge Graph also powers all of this information. At the end of the day, it's about helping people be more productive and more prepared.
What's next for Google Search?
In the next few years, you'll be seeing even more improvements to Google Search. For instance, we have made significant improvements to Voice Search to the point that you can have simple conversations with Google, such as "What are some nearby Japanese restaurants?" and then, "How about Italian?"
We've got ambitious dreams for the future of search, and we're just beginning to lay the groundwork for the perfect search engine. Google is working hard to make science fiction into a reality, and it all starts with reimagining Search as we know it. And we're only just beginning.